WOODLAND GATHERING VI TICKETS NOW ON SALE!!!
WOODLAND GATHERING V
WOODLAND GATHERING returns to Fellfoot Wood for its fifth instalment – Two more days of esoteric madness with the finest selection of multi genre music, an arboreal carnival of occult delights…
Click on image below to buy tickets!!!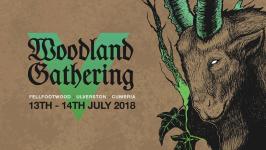 https://www.theticketsellers.co.uk/tickets/woodland-gathering-v/10045570
WOODLAND GATHERING 2017 
For those who like the elements and the allure of the woods, WOODLAND GATHERING returns in 2017!!!
TICKETS £35
DAY TICKETS £20
Click below for Tickets!
SITE OPENS 2PM FRIDAY 14th – LIVE ACTS FROM 5PM
FRI : PHURPA // BONG // JAMES WELBURN // GUTTERSNIPE // AHRKH // SOME SOME UNICORN
SAT : TERMINAL CHEESECAKE // TREPANERINGSRITUALEN // GUNCLEANER // BIG LAD (formerly Shitwife) // AJA // BLOWN OUT // ELEPHANT HOUSE // GAGARIN // ISN'TSES
SUN – SITE CLOSES 1PM
FOOD COURTESY OF:
BLISSED OUT FLAMINGO – Hannah will be back serving up her excellent selection of wholesome and substantial vegan wholefoods!
CUMBRIA GOURMET BURGER – https://www.facebook.com/CumbriaGourmetBurger/
For the meat eaters, specialities include the Blackwood Burger (marinated burger with bacon and cheese) tea and coffee will also be available during the morning.
DRINKS: Barry will be offering up two local ales on draught and a selection of ciders for your merriment! You can of course bring your own drinks too!
STALLS:
Cold Spring
Oaken Palace Records
Endtyme Records
PLEASE NOTE: ALL CAMPERS SHOULD PROVIDE THEIR OWN BOTTLED DRINKING WATER! There will also be bottled water available to buy on site of course, but we advise to bring your own supply too. There are ample (clean!) toilet facilities on site and sinks for washing only.
SCROLL DOWN TO SEE EVENTS ANNOUNCED FOR 2015 SO FAR!
 Coming soon: KK NULL +MAKOTO KAWABATA /AN EVENING WITH TEST DEPT/WOODLAND GATHERING III – Scroll down for details!!!
RADIO BLACK FOREST + ENDTYME PRESENT….
WOODLAND GATHERING III FESTIVAL
Radio Black Forest and Endtyme present a two day festival of the avant garde and esoteric in the idyllic setting of Fellfoot wood in the Lake District, Cumbria…
Roly Porter/Gazelle Twin/Freida Abtan/Colossloth/Gum Takes Tooth/JS Lowax/Cutthroats/Hugs Bison/Skullflower(TBC) + 3 more acts TBC!!
JULY 3RD/4TH 2015
Fell Foot Wood
Newby Bridge
Ulverston
Cumbria
LA12 8NN
https://www.facebook.com/events/342527745930923/
http://www.fellfootwood.co.uk/

Weekend Tickets £35
Day tickets available soon!

https://www.theticketsellers.co.uk/tickets/woodland-gathering-iii-festival/10036364
Acts announced so far:
ROLY PORTER (SUBTEXT)
http://roly-porter.squarespace.com/
Formerly of Industrial dubstep act vex'd (Planet Mu) Roly Porter mines a rich seam of eerie, corrosive greyscale and moreover heavy dub-wise electronics, with a warped but careful sense of modern classical composition.
He releases on Subtext (the label ran by himself ,Paul Jebanasam and James Ginzburg (Emptyset)) .His debut 'Aftertime' was followed by the acclaimed 'Life cycle of a massive star' which pushed his reputation further as a producer of cutting edge electronica.
This will be a new show from Roly based around his LP scheduled to be released next year…
GAZELLE TWIN
Gazelle Twin is the stage name of Elizabeth Bernholz , a British composer, producer and musician from Brighton, England.
Unsettling rhythms and haunting vocals ride out on mutoid electronica with avant garde dynamics exploring domains where the psychological meets the biological locked in frenzied rapturous bliss.
She has so far released the LP's Changelings (2010) and I Am Shell I Am Bone (2011) and Unflesh (2014) and a host of singles and Ep's.As well as being a pioneer of highly original electronic music she has also remixed music by electronic legend John Foxx .
GUM TAKES TOOTH
http://www.gumtakestooth.com/
Two man everything machine endlessly seeking what-the-fuck aural mesmerism in a maze like arrangement of physically overwhelming rituals of dance music, sound system culture, doom and pan-cultural psychedelics. Each member focusing intently on unmediated rhythmic interaction between crowd and performer, listener and emitter, directing the energy towards unexplored altered states. Dark primal frequencies are felt and not heard, unremitting circular drums shatter and rebirth whilst a cast of vocal characters provide an astral guide through these dizzying manipulations.
COLOSSLOTH
http://peripheralrecords.bandcamp.com/album/colossloth-anchored-by-lungs-e-p
Leicestershire's electronic esoterrorist and Black Forest favourite has been gaining critical acclaim with his innovative soundscapes and genre defying sonic hexes.. Be sure to catch the sound of deep england channelled via kneeling over his arsenal of fx and gadgetry. It's strange to think this is all the sound of one man…His New lp is out next year on Cold Spring Records….
FREIDA ABTAN
http://www.freidaabtan.com/
Freida Abtan is a Canadian multi-disciplinary artist and composer. Her music falls somewhere in between musique concrete and more modern noise and experimental audio and both genres are influential to her sound. Her work has been compared to bands such as Coil, and Zoviet France, because of her use of spectral manipulation and collage.
Freida primarily works with samples of both musical and non-musical objects that she records herself and then manipulates, often beyond recognition, through techniques derived from musique concrète and through successive layers of digital signal processing. She uses structures reminiscent of popular music and more abstract compositional variants to sequence these sounds into melodic songs before incorporating her own treated voice.
As well as having created visual shows for and performed with the internationally renown group Nurse with Wound, Freida has presented her own sound and visual work at festivals across North America and Europe.
JS LOWAX

Fervent Noise-prog enforcers hailing from the Isle of Wight with an emphasis to ascend the use of conventional instruments into uncharted, energy fuelled territory. Scratchy, clunky, psychedelic textures scramble back and forth into a dumbfounded aoenian dance. Amidst wiry hypnotic soundscapes and sculptural arrangements they culminate a noise rock frenzy of erratic time signatures and meticulous compositions! Musical slabs of unease and transitional decent are ripped in three, stretched and fused into a chaotic sensory collage glued together on a looped horizon. A three piece exploiting a unique endeavor, steering a platform of sonic improvisation into refined structures.
Brian Gibson (Lightning bolt) 'Exhausting, Relentless and really interesting!'
CUTTHROATS
Cutthroats is a band from Vilnius, Lithuania, consisting of three musicians and a visual artist. cutthroats merges various influences in order to explore new musical horizons. The band once stated that they produce "vital stimulants for melancholics". These stimulants are made of unique mixture of kraut, hypnotizing monotony and post-noise aesthetics. cutthroats live performances are full of sonic energy, blasting drum beats and unexpected twists of guitar sounds. The band was formed in the winter of 2014 in Vilnius. During this year cutthroats extensively toured in Lithuania and performed in it's biggest music and art festivals. For now the band has released one video clip for the track "Ignition".
HUGS BISON
http://www.hugsbison.com/press
Hugs Bison are a technology driven duo, exploring the frontiers of smart technology. They push tablets and apps to the limit to create cinematic, multi-faceted improvised soundscapes. The duo are Phil Powell & Shaun Blezard, one a technologist with a passion for music, the other a musician with a passion for technology.
Phil Powell is an award winning web developer who has been working with online technology for a number of years. Shaun Blezard is currently a Sound and Music New Voice – a scheme for the UKs most exciting emerging and mid career composers working in new music.
Together they are exploring smart technology, how this can make music and pushing the boundaries of online presentation of music.

 KK NULL + MAKOTO KAWABTA
26/5/14
THE FLAPPER
KINGSTON ROW
CAMBRIAN WHARF
BIRMINGHAM
TICKETS £8.00 ADV. HERE :  https://www.theticketsellers.co.uk/tickets/kk-null-makoto-kawabataarma-agharta/10035870
KK NULL (ZENI GEVA) teams up with MAKOTO KAWABATA (ACID MOTHERS TEMPLE)
Black Forest is excited to announce this new collaboration from two legends of the underground Japanese music scene.
Their music is some unique mixture of techno/electronica, drum'n bass, noise, psychedelic, kraut-rock and beyond. The collaboration has been described like "Pink Floyd meets Throbbing Gristle" and "21st Century's Heldon".
KK NULL
Kazuyuki KISHINO (aka K.K. NULL), composer, guitarist, singer, mastermind of progressive hardcore band ZENI GEVA. One of the top names in Japanese noise music since the early 80's. Worked with various artists such as Steve Albini, Fred Frith, Chris Watson, Z'ev, Keiji Haino, Matmos. Exploring the outer territories of electronica, creating intense clashing wave of noise, structured electro-acoustic ambience, broken down rhythmics, which could be described "cosmic noise maximal/minimalism".
http://www.kknull.com/
https://www.facebook.com/null.official
https://soundcloud.com/kknull
MAKOTO KAWABATA
Guitarist, multi instrumentalist, founder and leader of ACID MOTHERS TEMPLE.
playing in many bands, session and solo since the start of his music career in 1978.
has an extensive discography.
http://www.15questions.net/interview/fifteen-questions-interview-kawabata-makoto-mainliner/page-1/
https://www.youtube.com/watch?v=WtNJyQafbSw
https://www.youtube.com/watch?v=pRhzEpOC0nQ
MORE ACTS TBC!!!
ESPLENDOR GEOMETRICO
ASHKELON
28/2/15
Kauno g. 5, 03215 Vilnius, Lithuania
 https://www.facebook.com/events/1515244212082399/?pnref=story
ESPLENDOR GEOMETRICO (Spain)
https://www.geometrikrecords.com/esplendor/
Black Forest is pleased to announce the Industrial legends Esplendor Geometrico headlining the next edition of Umbra. Formed in Rome the early 80's their unique politically charged sound was responsible for kickstarting the Spanish Industrial music movement. They took the name "Geometric Splendor" from Geometric and Mechanical Splendor and the Numerical Sensibility, a text of the Italian futurist, F.T. Marinetti.Their music is a testimony to the arcane mechanics of industry whilst being simultaneously ecstatic and transcendental. 2015 see's their unique brutalist vision remain as uncomprising and diverse as ever ,
.After line up changes since their original inception, the band now consist of founder member Arturo Lanz and Saverio Evangelista . Black Forest is Honoured to have them play.
ASHKELON (London)

Baesd in London,Ashkelon are Charlie (Vindicatrix) and Keira (New Noveta/ Ex Maria and the Mirrors) vocal techno mutations and caustic innovation are the core of this duo. commanding dance floor savagery with avant garde dynamic, they have been playing shows across Europe to critical acclaim…
HEY COLOSSLOTH/COLOSSLOTH/ KHOST
18/2/15
THE FLAPPER
KINGSTON ROW
BIRMINGHAM
ENTRY £7
BLACK FOREST CHRISTMAS
https://www.facebook.com/events/744965355551919/?pnref=story
FEAT.
ARMA ARGHARTA
TUNNELS OF AH (COLD SPRING)
ONLY CONJOINED TWIN
TEN:TEN
RADIO BLACK FOREST PRESENTS:
ARMA AGHARTA
TUNNELS OF AH
ONLY CONJOINED TWIN
TEN:TEN
+ MORE ACTS TBC
£4 Entry
The City Tavern
38 Bishopsgate Street, B15 1EJ Birmingham, United Kingdom
Arma Agharta is one of the most active sound-performance artist and
promoter of experimental and adventurous music in Lithuania. He has a
versatile, distinct performing style which focuses on exploring the
boundaries of sound and body, and his live shows mixes these two
elements. Electroacoustic sound experiments are embroidered with noise,
synth music and heavy usage of vocals, all that becomes a part of
ritualistic, weird performance show, in which the artist embodies
otherworldly creatures. Unpredictable madness together with meditative
passages. Lo-fi aesthetics, drone mystique, outsider noise.
Since 2007, under different conceptual solo projects (Bruzgynai, Aram
Anam) he did over 100 shows in Russia, Ukraine, Germany, UK, Norway,
Austria, Netherlands, Poland, Finland, Serbia, Slovakia, Hungary, Czech
republic and Baltic states. Participated in the festivals Cocart
(Poland), Sonic (Denmark), Sound Around (Russia), SOTU (Netherlands),
Porin Juhlaviikot (Finland), and in all the main Lithuanian festivals:
Speigas, Supynes, Menuo Juodaragis, STRcamp, Centras, Dezintegracija,
Creature. His music has been released exclusively on cassettes on
Russian and Lithuanian labels.
Currently Arma collaborates with a well known Lithuanian sound artist
Arturas Bumsteinas aka Refusenik, previously he worked with Ramunas
Jaras, Stefano Ferrian and Simone Quatrana (Italy), the band Laisva
Struktura.
web: http://www.arma.lt/
audio: https://soundcloud.com/arma_agharta
selected live videos: http://youtu.be/janUnqAOGgY ,
http://bit.ly/1w5PXrS , http://youtu.be/0zBUH6bZ-rQ
photos: http://www.arma.lt/p/photos.html
the label and event organization: www.agharta.lt
TUNNELS OF ĀH (Cold Spring)

Tunnels Of Āh is the project of former HEAD OF DAVID vocalist Stephen Āh Burroughs and explores esoteric soundscapes and the fringes of consciousness His lost Corridors LP released on Cold Spring last year was met with critical acclaim and he is currently working on a new lp….
ONLY CONJOINED TWIN
https://www.facebook.com/pages/Only-Conjoined-Twin/426020344190543?ref=br_tf
TEN:TEN
One man soundtracker employing electronic tinkering and trickery. For fans of Barry Adamson, Cinematic Orchestra.
http://tonyadamo.macmate.me/site/tony_adamo.html
Made up music for your Earholez……..
http://tonyadamo.macmate.me/site/tony_adamo.html